About Pawlovich Chiropractic
Our mission: GIVE MORE!
Since he began practicing in 1997, Dr. Andy Pawlovich has been passionate about helping patients achieve their particular health goals through natural chiropractic care. He opened Pawlovich Chiropractic in Stonebridge in November 2014. Dr. Pawlovich loves to work in beautiful Saskatoon, where he was born and raised.
Our Vision
Our vision: To help people get what they want, naturally.
This means people come to Pawlovich Chiropractic for one reason…theirs.
Our vision implies that we want to address their needs and do so without the use of drugs and surgery… and to be authentic in our delivery.
Our Core Values
Perhaps you haven't been able to get answers or solutions about your particular health concerns. "When somebody ends up in our office, and they have a problem that has not been addressed, I get a smile on my face… because I enjoy being part of their solution and don't want anyone to suffer," said Dr. Pawlovich.
People seek out health care because they hope someone can guide them. We do not want to remove hope from anyone's perspective but we also need to be realistic. Our team is dedicated to remaining enthusiastic and encouraging.
Whether he's helping people that are longtime migraine sufferers or those with hip problems, Dr. Pawlovich finds it fulfilling to help patients get answers to their health problems.
If you've resigned to learning to live with pain or a particular health condition, Dr. Pawlovich wants to encourage you to grow and make changes to your health that can have a lasting impact with your own plan for recovery. Our team is dedicated to learning and growing in order to serve the entire community better.
While we're always serious about providing efficient, high-quality care, we do so in our cheerful and stress-free environment. Patients enjoy coming into our practice as it is far from a stuffy, impersonal, stale environment. You will often hear laughter and giggling throughout the day; often from Dr. Pawlovich's dry sense of humour.
An Accessible Location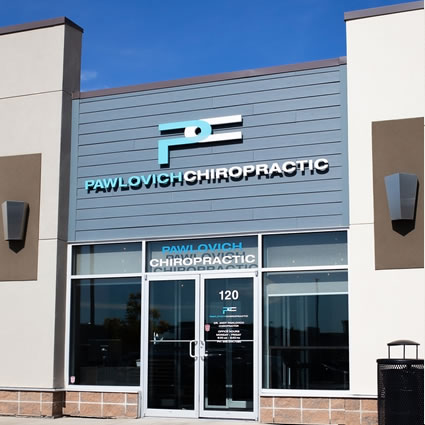 Our office is visible on the corner of two major thoroughfares in the vibrant Saskatoon neighbourhood of Saskatoon. It is a growing community where Dr. Pawlovich lives with his family. With so many amenities in the area, Dr. Pawlovich tells everyone that we are located on the north end of the Saskatoon "bubble", near Sobeys, Shopper's and Factory Optical.
Naturally Focused
Just as we provide natural health care, we're also natural in terms of our authenticity. What you see is what you get. There are no egos here; instead we want to do what is best for each patient. We are genuine and empathetic in how we interact with people and give our best recommendations for your success.
Take That First Step
Discover how our natural chiropractic care may help you and your family. Contact Pawlovich Chiropractic today to book an appointment!
---
About Pawlovich Chiropractic | (306) 244-7080