Pawlovich Chiropractic Reviews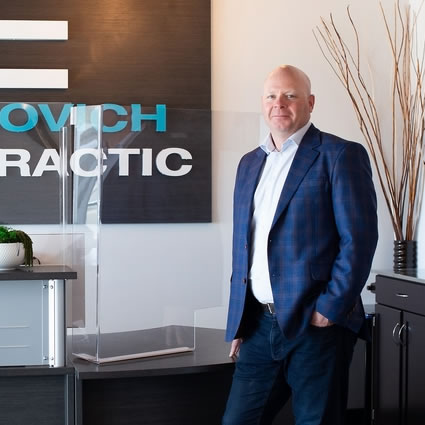 What Our Stonebridge Patients Say
At Pawlovich Chiropractic we love when patients share with us their feedback and comments after chiropractic care. Please read our patient reviews below to see what other people have achieved through their tailored treatment plans with us.
Share your stories too! Click here to send us your feedback so that we can help to spread the word about the benefits of natural Pawlovich Chiropractic care.
For more information, or to schedule an appointment contact us today.
---
Very Happy
Very happy with my first visit, the staff and the doctor were excellent!
-Connie L.
Excellent First Experience
Excellent first experience in your office. Everyone was friendly, cheerful and helpful!
-Amanda W.
Great First Visit
Thanks for a great first visit! I appreciate the time you took with me to answer questions, as well as the time spent explaining what the process would like, in addition to timelines. Very friendly and knowledgeable staff. Thanks again! I also know that the flexibility the office has with scheduling appointments will assist me in adhering to my treatment regimen!
-Susan C.
Very Welcoming and Professional
I believe that I can be helped here. Just moved to S'toon and found them on the net. Very happy with my first visit. Already made appointments for follow up. Very welcoming and professional, and personal staff.
-Erwin G.
Friendly and Nice
This was my first visit to a chiropractor, so I was not really sure what to expect. The staff were friendly, the office was nice and clean. I was seen in a timely manner and the explanations and the adjustments seemed to go well. I will continue with the course of action set and and see what happens. Hopefully this will help with my issue.
-Curtis R.
Overwhelmed by the Kindness
For someone who was scared to walk into another chiropractor clinic, I am overwhelmed by the kindness and respect I was shown by Dr. Andy Pawlovich and his team today. I now feel confident knowing he will address my issues and do his best to get me back to how I should be.
-Barb C.
Highly Recommended; A+
Andy and his staff were welcoming from the moment I walked through the door. His professionalism and attention to detail are A+. With a focus on sports, I would recommend Dr. Pawlovich to anyone needing an adjustment or looking for a chiropractor! Thanks for all your hard work Andy!
-Tim H.
Super Informative
Staff is amazing and so helpful! Won't go to another chiropractor! Dr. Pawlovich is super informative and amazing at his job
-Jamie R.
Very Hopeful
I'm very glad I made the decision to make an appointment. Everyone I met and talked with was friendly, helpful and encouraging. I am very hopeful my "condition" can be helped and a new level of "wellness" maintained.
-Lynn D.
Thorough and Intensive Examinations
Very impressed with the staff and with Dr. Andy. Very thorough and intensive examinations to ensure what treatment Dr. Andy would be focusing on. Love the technology and that I was given a visual copy of my back bone that showed the areas that were causing problems. He explained everything very carefully so that I understood perfectly what he felt would be the best way to treat these problem areas. Everyone is friendly and professional. Beautiful office. Love the family pictures! Highly recommend Dr. Andy at Pawlovich Chiropratic.
-Tiara C.
Appreciate Help
My back's been getting better slowly. I really appreciate all the help getting it started!
-Sandra A.
Same Day Appointments
Love the fact that you believe in same day appointments!!! How many times at other chiropractors did I get an appointment in two days, when I was in pain today…
-Eugene O.
---
Pawlovich Chiropractic Reviews | (306) 244-7080